Why do developmental groups for women matter?
Have you ever been to a meeting with several managers and leaders? Have you ever noticed how women are normally the minority and that they tend to sit next to or near each other?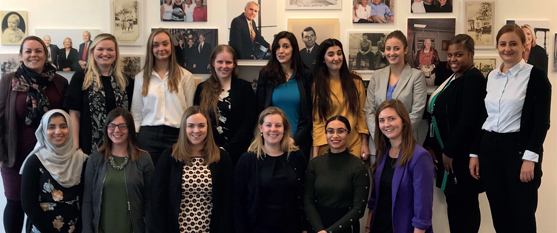 This is because humans tend to seek out others with whom they feel they have the most in common. That is why developmental groups for women can be so valuable in providing coaching and support.
Where the number of senior women within a business is smaller, it can be harder to find role models to emulate. The more we can increase the exposure and influence of women, the greater the success will be in breaking the barriers.
At Enterprise, there are developmental groups to support women at different career stages.
The Female BOSS Group at our EU HQ helps Level I female employees to expand their network, develop core skills and tackle any self-perceived obstacles to progression.
The BOSS Board initiatives help bridge skill gaps in communication and leadership styles through workshops and events that cater to the needs of different members and help to overcome hurdles.
Sessions are held every six weeks, exploring different topics and providing a platform to allow employees to meet their full potential.
Jill Boone, Female BOSS Level IV Champion said, "Being a member of the Female BOSS Group means that these women are committed to a one-year program of focused professional development. They will build their workplace skills and develop their personal strengths to progress in their careers."
The Lean In Circle at our EU HQ offers Level II and Level III female employees peer-to-peer mentoring and support, a chance to share experiences with each other and to develop soft skills required to achieve personal and professional goals.
The Lean In Circle is a place where members can be unapologetically ambitious. According to Women in the Workplace 2017, co-authored by LeanIn.org and McKinsey & Company, women in circles are more confident and ambitious, more likely to ask for and to receive promotions and more aware of the role that gender plays at work.
"Peer mentoring is extremely important in bringing positive change in your life personally and professionally. The Lean In committee empowers members through networking and development opportunities," said Leigh Lafever-Ayer, Lean-In Level IV Champion.