Find your voice
Currently the HR Director for UK & Ireland, Leigh Lafever-Ayer started her Enterprise career in Tennessee, joining the graduate programme in February 1990. She moved to the UK with her husband in 2005.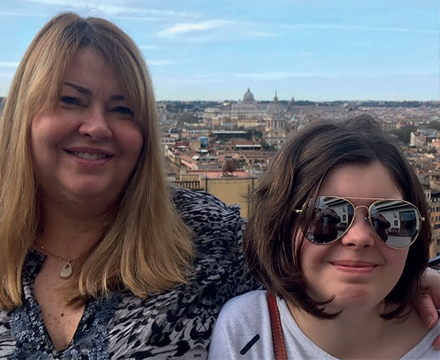 After 28 years with the company, Leigh inspires women to reach their full potential and to be confident with themselves, as well as with each other.
Leigh's initial career interest was marketing, specifically and running a customer centric business. She developed quickly and was promoted to the branch manager in a new branch shortly after her one-year anniversary.
Working as a branch manager, Leigh realised her passion for talent – choosing the right people and developing their skills. This was where her natural flair really shone. It was this passion which led to Leigh's promotion to area manager, and later to a specific human resources role.
When asked about why positive attitudes are so important, Leigh said: "A positive mindset is crucial for performance and communicating your vision. People have to believe growth is possible, it is what gets things done!"
What do you love most about your role?
The variation that it offers day in day out. One day, I am focusing on legal aspects of Human Resources and employment law. The next I could be speaking with a group about their employee engagement or diversity activities and then I could be meeting with our customers to talk about customer service or our diversity strategy.
What are of the toughest challenges you have faced?
At one point I was the youngest branch manager in our group and I had to learn how to coach people who were more experienced than me within their roles. That allowed me to develop my leadership and coaching abilities and also helped employees discover their full potential.
What is your favourite Jack Taylor quote, and why?
It's 'Are you having fun?!' For me, this represents a sign of engagement, because hard work is expected, alongside enjoyment. It is about trusting everyone to work hard, and really gets employees to understand the ethos of the business and the impact each individual makes in the overall culture and success.
What would your advice be to any females aspiring to progress in Enterprise?
"Do your best. You have a voice, don't be afraid to use it. Talk to your line manager and speak about skills you can bring to the table. Plan your career and it is ok to change and adapt it too. Having a plan will guide you and help you reach your personal goals. Don't forget to explore the avenue of giving back to those in need. Partake in volunteering: everyone has talents that they can reinvest into the community."
What are your hobbies – what do you like doing in your spare time?
"I really like going to rock concerts and the theatre with family and friends. I love travelling with my husband and 11-year-old daughter Alex. In fact, I just came back from a family holiday in Rome!