Why should you lean in?
You may have already heard of 'Lean In' the book but have you heard of the EU99 Lean In Circle?
Published in 2013, Lean In: Women, Work, and the Will to Lead was written by Sheryl Sandberg, the chief operating office of Facebook. Sandberg subsequently founded LeanIn.org, dedicated "to offering women the ongoing inspiration and support to help them achieve their goals." The organisation offers educational resources and programmes that encourages female leadership.
A Lean In Circle is small group of peers who meet regularly to learn and grow together. Research shows that we feel more confident and are able to accomplish more in groups. Currently there are over 34,000+ Lean In Circles across 150+ countries and did you know one of those takes place at EU99?
Each woman participating in the Lean In Circle can focus on her own goals – professional and personal. The Circle is designed to empower, inspire and connect women in our organization. Lean In is not a training course – it's a group who meet regularly to learn and grow together, in order to step outside comfort zones.

Erin McCoy, European Marketing Manager
I joined the Lean in Circle to improve my confidence both in and out of work situations and also to build my network and personal brand internally. Having only been to three sessions I am still finding my feet but can already see the benefits of discussing topics with other women who can offer advice for things I might try in different situations.

Katie Bacon, Partnership Specialist
Peer mentoring is extremely important in bringing positive change in your life personally and professionally. The Lean In committee empowers members through networking and development opportunities.

Leigh Lafever-Ayer, Lean-In level IV champion
The EU99 Lean In Circle offers female employees peer-to-peer mentoring and support, a chance to share experiences with each other and develop soft skills to help achieve personal and professional goals. It consists of 38 level II and level III women. Topics discussed when the circle meets have included work/life balance, influence, framing conversations, networking and wellbeing.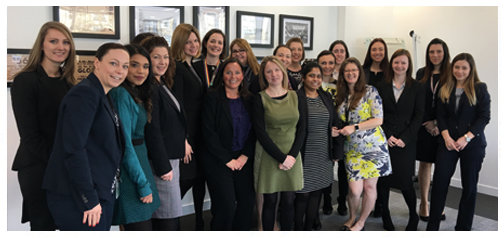 According to Women in the Workplace 2017, coauthored by LeanIn.org and McKinsey & Company, women in circles are:
more confident and ambitions
more likely to ask for – and receive – promotions
more aware of the role that gender plays at work
If you are interested in finding out more information or would like to join a Lean In Circle at Enterprise, please contact Jennifer Koontz (Jennifer.Koontz@ehi.com).