Mind – for better mental health
A problem shared is a problem halved. With mental ill health at an all-time high, and one in four people likely to suffer from mental illness at some point, the charity MIND strives to create programmes that enable better mental health for everyone.
Enterprise is an active supporter of MIND's mission, and in May 2019 hosted a charity day at UK99 to fundraise, have fun and encourage more discussion surrounding mental health, making employees aware of some of the common topics.
Employees got involved in an afternoon of games and BBQ or potluck lunches. Outdoor activities included a football penalty shootout, egg and spoon races and an informative mental health themed quiz. The event ended with a raffle, and Neil Haydock from MIND as guest speaker.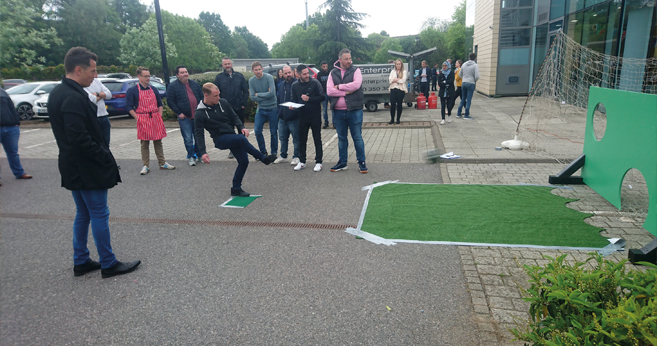 The day raised £4,100 to help MIND continue to make a positive impact by accomplishing its six goals:
Helping people take part in society equally
Helping people stay well with resilience-boosting community services
Giving people choice by improving access to high quality information
Improving services and support by improving lifesaving crisis care
Making services accessible to all
Putting excellence at the heart of MIND's organisation and maintaining a strong financial position to continue its services and programmes
Enterprise supports MIND to ensure that as a business, leaders, managers and employees continue to learn, implement and initiate best practice techniques that provide better, more effective support platforms for employees.
Enterprise's public Time to Change pledge, supported by many Level IV directors, is a recent success. It shows Enterprise's commitment to changing attitudes in the workplace and ending the stigma and discrimination that can surround mental health.
It isn't always easy for people to talk about their mental health challenges. It can be a hard topic to discuss. It is just as important to ask how people are as it is to listen. We don't want to wait until the crisis stage. Ask twice: it could make the world of difference.
Another initiative is the implementation of Mental Health First Aiders, who are appointed to help those employees who identify they are experiencing mental health challenges. They act as a 'listening ear' for employees who want to have an open conversation.
Established in 1946, MIND is led by comedian, actor and writer Stephen Fry. It identifies the mental health challenges we face and provides advice and support to empower those experiencing these challenges.
MIND campaigns to improve services and raise awareness while promoting understanding. The charity has approximately 130 local units throughout the UK, which tailor their services to match the needs and demands of each community. This year, the charity has already supported over 425,000 people.