Lean in and speak Spanish
Every month, EU99 employees get together to develop a common interest: speaking Spanish.
These are not native Spanish speakers. They are employees from various departments coming together to hone their language skills and practise Spanish in a relaxed, informal environment. The sessions aren't limited to Lean In members either – they're open to anyone at EU99.
The first session began in March, with Colombia-born Lina Marin Jimenez heading up the group. Lina is a Business Management Supervisor and has a passion for helping people.
"I'm just facilitating the sessions," says Lina. "It's a collaborative environment where we all help each other." Currently the group is made up of employees from the marketing, legal, revenue management, IT, business management and franchise departments. You don't need to use Spanish in your role to take part. Generally, those who participate are simply interested in improving their Spanish speaking skills for their personal development.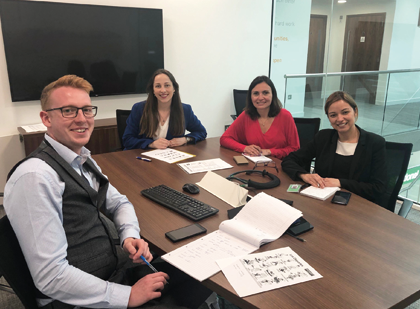 "I do it to get exposure to Spanish again," says Brand Marketing Specialist, Priscila Martins Leonel. She previously studied Spanish at college. "It's also good to interact with people in the business outside of my department."
The sessions are designed for any employee with basic knowledge of Spanish. It consists of casual conversations as well as a review of handouts from Lina that include common phrases and greetings, colours, foods, sports, animals and various activities.
"The sessions exist to help employees expand their knowledge and build their confidence in speaking the language. It's about networking and improving business skills," Lina concludes.
If you would like to join the Lean In Spanish group, e-mail LeanInEU99@ehi.com. The sessions are hourly and take place on the last Friday of every month, with additional 30-minute practice sessions on Tuesdays over lunch.