How Enterprise Car Club helps working parents
Enterprise works hard to create an environment that helps all employees develop. It is one of the reasons the company has been named one of the Top 50 Employers for Women for 13 consecutive years.
The company's business lines are also helping customers to succeed, especially working parents who have to juggle and multitask. It demonstrates that the company's ethos is carrying on from the office and into products and services that it offers to customers.
Every minute counts for working parents when their job involves a lot of travel. Enterprise Car Club recently heard from Claire Moran, an executive account manager for a large pharmaceutical company, about how she uses its cars to make the most of her time when she's travelling for work.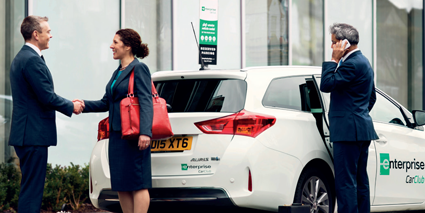 Claire's role involves visiting hospitals that use neurological medicines. In order to do this, she travels to Newcastle, Durham and Leeds by train before picking up an Enterprise Car Club vehicle at the train station to complete the last part of her journey. For her, it is important to be efficient with her travel and accomplish as much as she can during the journey.
"I prefer to take the train because it means that I can relax and work. When I get to my destination I've already booked the Car Club vehicle to ensure it is there when I need it, and I then just jump in and head off. It's all very easy and it gives me much more flexibility and independence than if I was in a taxi."
Enterprise Car Club's national network means that travellers like Claire are able to gain access to a vehicle quickly from many locations. She told us that it allows her to rent for just the time that she needs and if something happens – her train is delayed or her meeting finishes early – she can just hop into a car without having to wait around for a lift. Using a combination of train and car travel works for Claire because she can use her time effectively.
I can't wait for Enterprise to extend the service to other stations. It means I can be a member of just one car club but access vehicles in lots of different locations.
"As a mum, working on the train is really important because it means that all of the follow up work gets done before I get back. It would be much harder if I had to drive everywhere. Taking the train, I'm much less tired and it's especially good in the winter months if I have an early start and it's dark."
Enterprise Car Club takes the stress out of Claire's journeys meaning that she can concentrate on the important things without worrying about anything other than the job at hand. She's not reliant on anyone else to get to her destination – and all she needs is her phone to unlock the vehicle.
"I can't wait for Enterprise to extend the service to other stations. It means I can be a member of just one car club but access vehicles in lots of different locations. It's perfect when you just need wheels for a few hours. The cars are always in good condition and I would recommend it to anyone."