Developing your inner rubber band
The concept of resilience is as simple as the metaphor of a rubber band. Like people, rubber bands come in all different sizes. They are subjected to different challenges and stretched in different ways to achieve a number of goals. Some can be stretched a long way. Others have a shorter span. All can be developed! Here's how.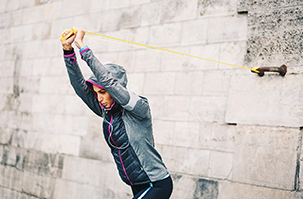 Have you ever had times when you've felt snapped or broken? That is a sign that your inner rubber band is perhaps being stretched beyond its potential. Sometimes we say 'yes' to too many challenges, or face difficult circumstances that can stretch our state of mind and our emotions beyond their comfort zone. This is where resilience is so important.
Resilience is not just your ability to bounce back. It is also your ability to adapt in the face of a challenging circumstance. Resilience isn't necessarily a personality trait – it's something that we can all take steps to achieve.
A good example is when you didn't get that job you interviewed for. While it's disappointing to miss out on an opportunity, be proud of yourself for what you have achieved just by applying for the role:
You gave a new role consideration and reviewed your own accomplishments and experiences – this is always useful to keep up to date. You now have a head start for the next opportunity.
Senior leaders within the business can see that you are aiming for a promotion. This will work wonders for your personal brand and demonstrates your motivation to develop and learn. You may find one of those leaders will be open to mentoring you so you have a better chance next time. Why not ask one of them if they will help you?
Your interviewers will have made detailed notes about you – so always ask for feedback! This one on one time to discuss your interview performance is extremely beneficial. Take notes, ask questions and don't be afraid to ask for interviewers to support you in future.
Set your SMART goals around your feedback. Maybe you need to practise your presentation skills or gain particular experiences to bank for next time. It's incredibly important to set and achieve goals that match your values and to learn from your experiences.
The key to being resilient, like the rubber band, is to focus on being flexible. Resilient people understand that things change and situations don't always go to plan. Try to feel confident that you're going to succeed eventually, despite the setbacks or stresses that you might be facing.
When you develop a strong sense of self, this will give you the strength to keep moving forward and take the risks you need to get ahead.
Remember, not today doesn't mean not ever: it just means not yet.