De-stigmatising women's health in the workplace
Women's health can be disruptive and for many even debilitating as they move from menstruation to perimenopause, menopause, and beyond.
One in three of the working people will soon be over 50 and may stay in the workplace until retirement which is now 68. So, while the conversation is becoming more open and transparent about women's health, more needs to be done to educate and better support women, particularly in the workplace.
"People often think that women's health issues are relevant just for women, but this is not the case"
Dr. Stephanie Faubion, director of the Women's Health Clinic at the Mayo Clinic, surveyed more than 5,000 women between the ages of 45 and 60 showing that many women have reduced their job hours or are missing workdays because of menopause symptoms. Women are often incorrectly diagnosed and given antidepressants as a solution, and a quarter of those say GPs don't consider the possibility that symptoms are menopause related.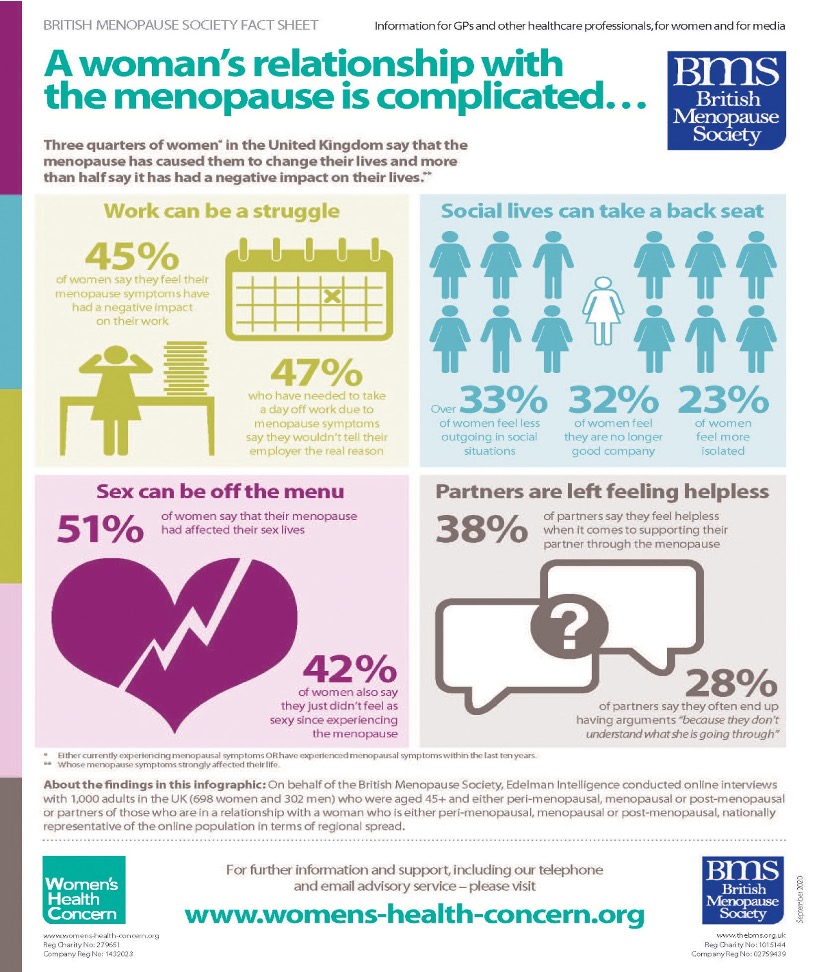 Enterprise raises the issue
To create a safe, transparent, and engaging conversation that destigmatises menstrual and menopause health, the Enterprising Women Board and Women's Initiative Network (WIN) is launching a series of initiatives to raise awareness, educate and support everyone across the business.
This started with a virtual 'lunch and learn' led by Tina Birkinshaw, Gynaecology Nurse Practitioner and Menopause Specialist for Leeds Community Healthcare Trust – attended by many women and also a large number of men wanting to join the conversation.
People often think that women's health issues are relevant just for women, but this is not the case. The Faculty of Occupational Medicine Research shows that 38% of people say they feel helpless when supporting their partners and 28% of partners say they often end up having arguments as a result of poor knowledge.
It is important that we continue to educate everyone including every son, husband, brother, father, nephew uncle to male supervisor to help women manage these experiences.
Women can experience symptoms up to 10 years before going through the menopause. What is even more interesting is that it can be quite hard to identify symptoms. Other factors such as the kids playing up, a hard day at work, relationship problems, moving house, starting a new job or looking after older relatives are often incorrectly blamed for menopausal symptoms. Women fail to listen to their feelings and overlook the wealth of help available to make this experience less daunting and stressful.
"I would encourage all women who have been previously dismissed by doctors to push for a second opinion"
Expert opinion – and second opinions
It was refreshing to hear from an expert but also experiences and questions from women of all different life phases and understand that it is totally normal to have a complicated relationship with the menopause.
One woman's coping mechanisms can be totally different to another's. From medication, lifestyle changes, meditation, therapy, exercise and much more, we must continue to talk and share to help each other find what is useful to us personally.
"I first went to my GP when I suspected I was perimenopausal because of mood swings, joint pain, weight gain, lack of focus, and night sweats," said Emma Grant, Enterprise Human Resources Manager, and a key organiser of the event. "My GP told me perimenopause was unlikely because at 43 I was too young. When a hormonal blood test also came back as 'normal' she concluded that I couldn't possibly be perimenopausal.
"For the next 12 months I continued with the same symptoms, and finally went to see a different GP at the same surgery. By this point I was beginning to feel anxious about my health. I was imagining all kinds of things were wrong with me. The new GP was more sympathetic than the first person I saw. She explained that blood tests can be unreliable as hormones fluctuate across the month which is why that she diagnoses instead on symptoms. She said straight away that she could see I was perimenopausal.
"I already had the Mirena coil fitted which balanced my progesterone levels. But I also needed an oestrogen top up which I now take in the form of as a transdermal gel. Within four weeks, my symptoms were all greatly relieved, and I felt back to my old self.
"I would encourage all women who suspect they may be perimenopausal but have been previously dismissed by doctors to push for a second opinion."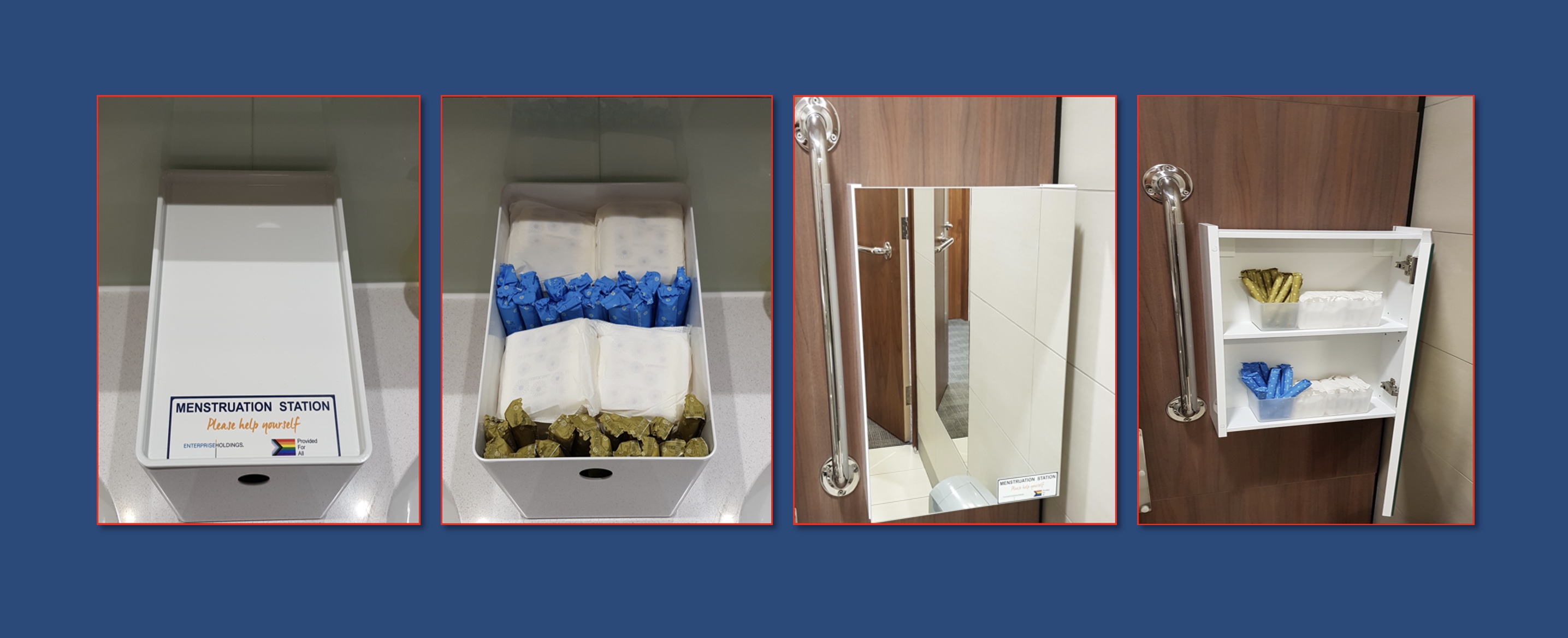 An issue affecting most women
There is still a long way to go with normalising period health but taking insight and turning this into action is the starting point.
Thinx research revealed that A shocking 42% of women experienced period-shaming at work and 73% have hidden a pad or tampon on their way to the bathroom with 58% report feeling embarrassed at work because of their period.
This is madness!? We don't hide a tissue when we have a cold, we deal with our body's needs.
With the return to the office, the Enterprising Women Network and Women's Initiative Network (WIN) have set up a menstruation station pilot at Enterprise's European head office.
Free eco-friendly period products are now available to everyone in all female and gender neutral bathrooms on the Egham campus. This is a great step in normalising period health in the workplace.
Chair of the Enterprising Women Board, Ceri Miles, said: "This is a gender equality issue because of the impact it has on women in the workplace. There is fear of being caught out and perceived difficulties in raising concerns around periods. Sometimes a situation could arise and a woman feels uncomfortable letting their manager know they need to pop out to buy products. We want to do what we can to support women in our workplace. We don't want anyone to be held back by the lack of products in the office."
The power of knowledge
It is amazing and important that these conversations are happening in the workplace and actions are being put in place to empower female leaders.
The lunch and lunch especially re-assured me, and better equipped me with facts and knowledge. I no longer think of the menopause as the unspeakable 'change'. it's a life phase that is natural and normal. Whether you are 18, 25, in your 30s 40s or 50s, and regardless of gender – knowledge is power when preparing yourself and your loved ones.
If you or someone you know needs help and support around any women's health issue, do not feel ashamed or embarrassed. There are lots of tools and good self-help information available but there is also nothing like a chat and a cuppa with someone you trust. Useful resources about the menopause can be found at: