Could you be a mental health first aider?
In a world where the pace of change continues to accelerate, where life gets busier, and technology offers us more and more, and our expectations of ourselves continue to rise, we must all look after ourselves and each other and promote good mental health.
This is especially important now, as so many colleagues are working from home, sometimes in self-isolation, and those working in the branches have seen the workplace change fundamentally as a result of social distancing measures.
The good news is that Enterprise has supported the development of a team of mental health first aiders to create a resource that employees can use when they have difficulties. 
In the UK we currently have around 100 mental health first aiders – and we continue to expand our team.
"You will develop your active listening skills, decision making, communications and compassion"
What does the role involve and why does it matter?
A mental health first aider provides support and direction in a confidential and pressure free environment, offering a friendly ear, and signposting the route for professional help, or to other support services if required.
They let you know that it's OK to talk to someone and that's it's not just you that may need some help.
The mental health charity Mind has research that shows that every year, at least one in four of us will experience some kind of mental health problem.
When we consider the number of friends, colleagues, and family members we interact with on a daily basis, the numbers truly demonstrate that mental health could affect anyone.
Deloitte recently stated that mental health problems cost the UK economy £45 billion annually, and that this has risen by 16% since 2017.
Businesses promoting good mental health see fewer work house lost to absenteeism.
Many organisations have established mental health first aider networks including Thames Water and Barclays.
A culture of openness and honesty is self-perpetuating, and businesses with a strong focus on promoting mental health and working with employees on creating the right work life balance, flexibility, and access to support are reaping the rewards.
How can I look after myself?
Small switches can make a big difference to our mental wellbeing, and positive choices and actions combine to provide a mental boost:
Get outdoors and take more exercise – even walking and running have been shown to have a positive effect on mental well-being
Ensure you get enough sleep – try going to bed and getting up at the same time each day to establish a routine
Take regular breaks – try to take a lunch away from your desk, for example
Good nutrition – take it one meal at a time and choose a healthier option. Cutting down on sugary foods can be a simple way forwards
Try a digital detox – switch off your phone and limit screen time in the evenings and at weekends
How do I find a mental health first aider?
You can find a mental health first aider through your HR team, or you can find more information and key contacts on the THRIVE page on the Hub.
How can I look out for colleagues?
Try asking "how are you, are you OK?" twice as the first answer may not be the real one. It's worth pushing a little bit to make sure they are really ok.
Get to know your colleagues so you can notice changes in their behaviour patterns. If they become irritable, withdrawn, unreliable, try opening up a conversation, or let them know you are there for them when they want to talk.
Use the Enterprise Wellbeing Passport. This mechanism is designed to support employees and their line managers in their role.
If you are a line manager, make time to discuss this with your employees. Watching out for your employee's mental health is a key part of every line manager's role.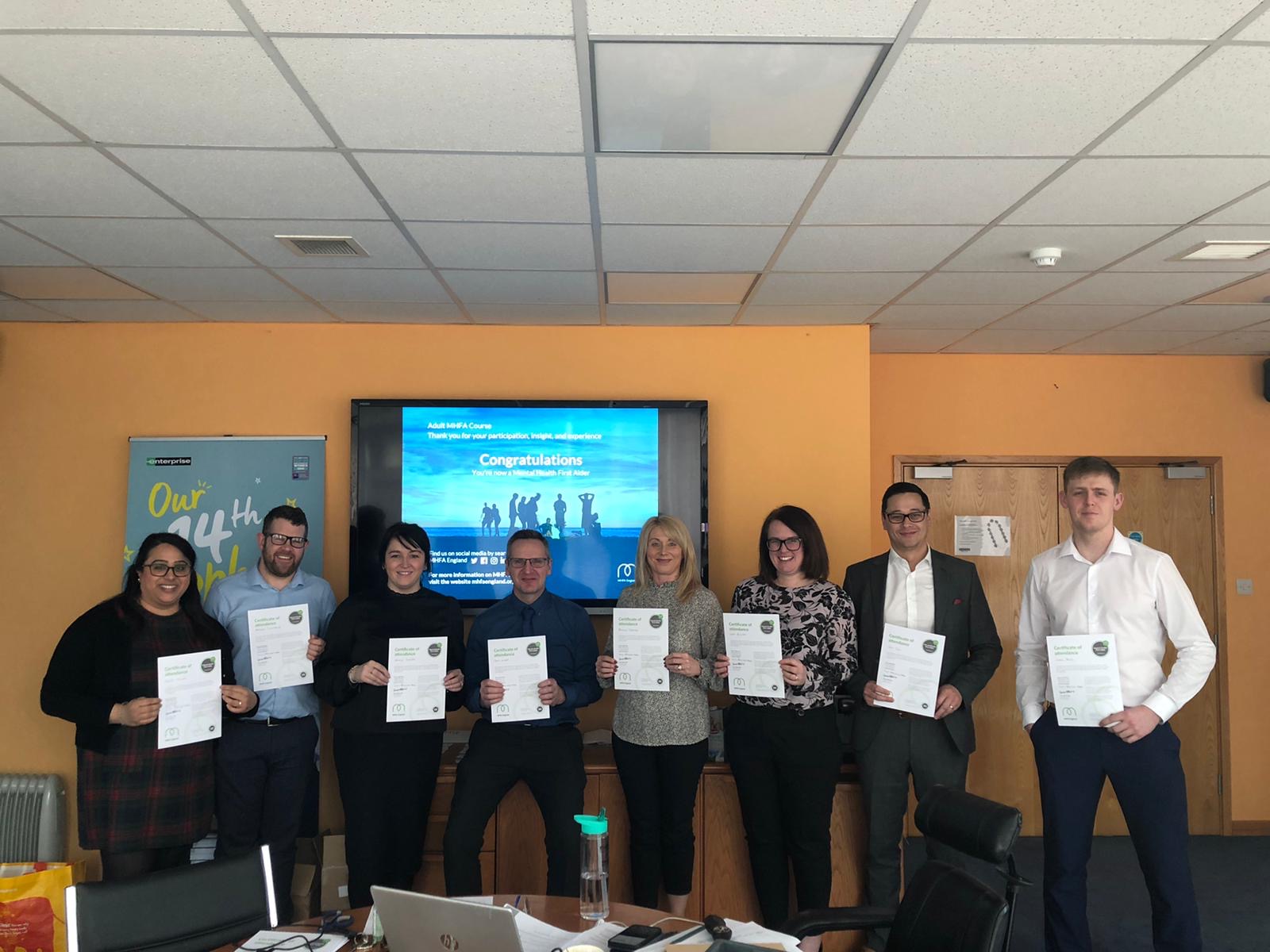 How can I find out more?
You can read employee feedback, access links to the Wellbeing Passport, find self-care tips and more on the Thrive Hub page https://hub.ehi.com/groups/uk-disability-network
The Mind UK website also has a wealth of information that can be found at https://www.mind.org.uk/workplace/mental-health-at-work/.
Interested in becoming an Enterprise mental health first aider?
If you are interested in becoming a mental health first aider please speak with your HR team first. They will explain the situations and interactions you may need to deal with so you are prepared.
The two-day course is focussed on helping employees spot the triggers and signs of mental health problems. You must be confident to step in to potentially help an employee in distress. You will develop your active listening skills, decision making, communications and compassion, which are all key skills in day to day work as well.
"A mental health first aider provides support and direction in a confidential and pressure free environment"