How well do you know Radar?
Reporting All Diversity Activities Regionally. So now you know what the acronym stands for, what is this new tool that everyone at Enterprise is now using?
Tracking information on diversity events and their successes was previously a challenge, until the launch of RADAR in October 2016.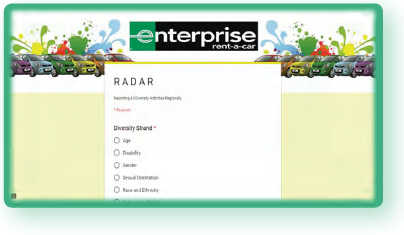 Take the Enterprise Diversity Careers Family Focus Group (D/CFFG). There are a number of strands within DCFFG and each works exceptionally hard to organise and participate in various events and activities across the UK and Ireland. But how many are there, who attended and what was achieved?
The new platform gives groups the opportunity to be recognised for the effort and work put into diversity events. Employees will input simple information into the RADAR online form. This information is then collated by the EU99 HR and communications teams to create quarterly statistics and infographics which can inform the business on the types of work carried out across the country.
The tool can also be used to identify trends across the UK and ensure Enterprise is being wholly diverse in all strands of DCFFG. Because of RADAR we now know:
Most popular event partner? Stonewall!
The gender diversity strand has had the most events so far. No wonder we have been in the Times Top 50 Employers for Women 12 years in a row.
The sexual orientation strand is the second most popular event choice for groups.
More than 1,800 employees have attended diversity events since October.
So you're probably thinking how does this benefit me?
With RADAR data, Enterprise can now give each group deserved recognition for the amount of work they do, and also offer support in organising the event by providing companywide hashtags to encourage social media participation. As Enterprise employees across the country start using the dedicated hashtags, visibility of each groups' activities is improved and we help to raise Enterprise's social profile as a diverse business.
The Drive magazine twitter handle @Drive_Diversity can always be used as it highlights Enterprise diversity across all strands.
By Yoana Nikolova
RADAR at a glance
RADAR is user friendly and easily accessible.
The RADAR form should be completed after the event, so that the information captured fully reflects the event outcome.
The form can be accessed from anywhere and only takes five minutes to complete.
RADAR encourages employee social media engagement and highlights Enterprise's diversity efforts throughout the country.
RADAR will help Enterprise with future award submissions.
For RADAR help or questions contact Sarah Gillis (Sarah.R.Gillis@ehi.com) or Kalifa Hickinson (Kalifa.A.Hickinson@ehi.com)
Enterprise's diversity hashtags
Gender: #EnterprisingWomen
Sexual Orientation: #Enterpride
Social Mobility: #DrivingSocialMobility
Disability: #DRIVINGdisABILITY
Race & Ethnicity: #ERACforBAME
Religion & Belief: #EnterpriseBelieves